By Dr Virginia Wotring

This year, the Human Performance in Space Department of International Space University's Space Studies Program explored further than ever before. Led by Dr. Virginia Wotring, ISU Professor, and Dr. Heather Allaway, Assistant Professor, Louisiana State University and ISU Global Faculty member, a team of 15 diverse participants examined human performance, in classroom activities at the Institute Taguspark in Oeiras, Portugal, in nearby laboratories, and even under the Earth's surface and underwater.
The group of participants was diverse in age, country of origin, and educational and professional backgrounds – but they shared a lack of significant experience in the life sciences. They were all learning and exploring a new topic together. They spent almost one month learning about life sciences, astronauts and their training, and also about themselves.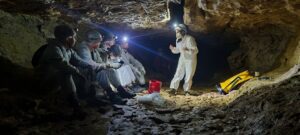 From Dr. Kris Lehnhardt, NASA Exploration Medical Capability, Baylor College of Medicine, and ISU Global Faculty member, the participants learned about the health issues faced by astronauts and how their physicians plan to care for them, even though circumstances might force this care to be managed from a long distance away. Kris stressed the importance of communication and good teamwork, especially in a special session with team dynamics expert, Dr. Pedro Marques-Quinteiro, Universidade Lusofona. The principles of teamwork were tested by them and Dr. Ana Zelia Miller, Universidade Evora, during exercises in the Assafora Caves near Sintra. The participants spent hours in the cave, learning the same kinds of things that astronauts do in ESA CAVES missions in Italy, a respected training analogue for space agency astronauts: measurement and mapping techniques of caves, non-destructive analysis of cave structures and materials, and sampling for microbial life forms. Maneuvering in the tight spaces of the cave required "bear-walking" and even crawling. It was a lot to do in a few hours, while simultaneously undergoing the physical challenges of maneuvering safely in cramped, rugged, and potentially dangerous terrain and also looking out for every team member along the way. It was challenging for everyone, sometimes mentally, sometimes physically. It was also incredibly rewarding and educational. And everyone stayed safe, thanks to the team of speleological professionals led by Luis Asensio.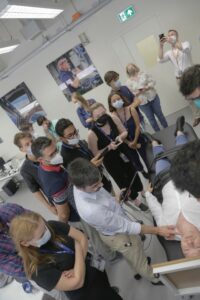 The HPS group also learned about biomedical studies involving astronaut conditions that can be studied in laboratory conditions. During a visit to Portugal's first Space Biomedical Research Lab at the University of Lisbon, hosted by Dr. Thais Russomano and Dr. Edson Oliveira. Thais introduced the participants to the basics of physiology affected by the space environment in a fashion that was approachable and compelling, a perfect beginning to the day. In the afternoon, there were hands-on activities in the lab. A few participants experienced, for just a few minutes, the head-down tilt that is used to simulate the fluid shifts associated with reduced gravity. Important studies for astronaut health are conducted around the world with head-down tilt, often for hours, weeks or even months. The laboratory also boasts an Alter-G treadmill, which uses pressure applied to the lower body to offset a fraction of Earth's apparent gravity. Several participants got to experience this themselves and tried walking on the Moon right in the lab, while the others imagined the sorts of simulated low-gravity physiological experiments that could be conducted on Earth with this apparatus. Edson also introduced a few participants to a new training system he's developing, intended to teach people who are not medical experts how to perform a lumbar puncture, a relatively difficult medical procedure. His innovation involves ultrasound guidance, which participants used to image the inside of the body or medical training dummy in this case. So much is happening in this one laboratory – it was a long and amazing day at the campus of the Faculdade de Medicina de Lisboa.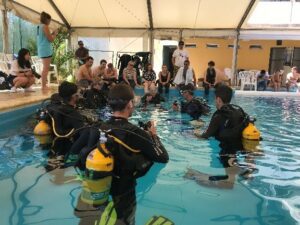 The HPS Department also partnered with the SSP Engineering Department on a simulated extravehicular activity conducted underwater, just as astronauts train for real mission EVAs. Dr. Joe Pelligrino developed realistic tasks to be accomplished during the "mission": a satellite dish that had gotten stuck and wouldn't deploy properly, and a radiator panel that needed to be unfolded. He cleverly built these from common household items that could be conveniently submerged in the pool at the historic Centro Partugues de Actividades in Lisbon. Dive Instructor Nuno Carvalho provided dive training, with Hugo Cost, of the Portuguese Space Agency and Virginia Wotring serving as safety divers.  Dr. Todd Mosher devised a mission operation team of primary astronauts, their back-ups, and various crucial mission operations and ground control roles. After classroom training is some basic aspects of diving physiology and practice, participants were challenged to assume the duties of their assigned role on the mission. Divers were fitted out with the gear they needed, with everything checked and double-checked by the support crew. Divers began with underwater equipment testing and then demonstrated control of their neutral buoyancy before attempting their mission.  Pairs of divers, then proceeded to depth to conduct their repairs. Every team succeed in accomplishing their mission goals, with several even meeting their time goals. The underwater activity was well-recorded with multiple video cameras, even one specialized for virtual reality, so check ISUnet.edu to see these as they become available for viewing.
The HPS department activities began and ended with Space Omics, a workshop led by Dr. Willian da Silveira, Staffordshire University and ISU Global Faculty member. The participants learned about modern molecular biology, the genome and gene expression as well as how an animal's environment and activities can result in changes in gene expression. These sorts of studies are now routinely conducted on the International Space Station and are changing what we know about human adaptation to the space environment. The participants then took up the challenge to test their own hypotheses about the effects of space on mammalian physiology, working in small groups and using data from a NASA space mission (RR1 from GeneLab). A set of group presentations near the end of the program allowed the participants, mostly engineers, to display their omics experimental results at their own SSP Space Omics mini conference, on topics ranging from muscle metabolism to neuronal function. Their progress was astonishing, and projects are being followed up for possible publication in the biomedical literature in the future. This activity allowed the participants to develop and display all their new knowledge of human performance and life sciences in space and brought together all the department's activities. In the final debrief session, there were some group conclusions: there's a lot to learn about optimizing human health and performance during space missions, the training and preparation are crucial, and there's a need for engineers and other specialities in every HPS study. All great lessons for space and for participants in ISU programs!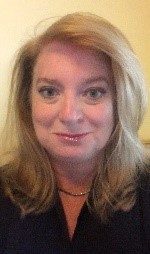 Dr Virginia Wotring is a Professor at International Space University, studying the effects of extreme environments like space on animal physiology and pharmacology. She also enjoys teaching in unusual environments, so this year's SSP was a great chance to teach lessons in a cave and in a pool. She has had her experiments conducted at NASA's Johnson Space Center and onboard the International Space Station and has hope for deep space experiments in the future.