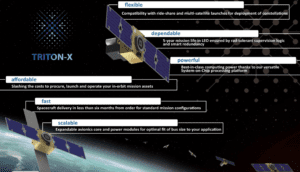 Edinburgh / San Jose, California, 22 August 2022. – U.S.-based commercial space company planning to offer in-space infrastructure services, Momentus, signed a service agreement with Luxembourg-based small satellites and space-based applications and services provider, LuxSpace, Momentus said.
Hosted payloads are a foundational in-space infrastructure service enabling customers to focus their resources on achieving their mission objectives, according to Momentus.
LuxSpace, satellite manufacturer OHB's subsidiary, will fly its Triton-X small satellite platform aboard a Vigoride Orbital Transfer Vehicle in 2023. The in-orbit demonstration will aim to validate key Triton-X subsystems and other technologies.
Triton-X is designed for small low Earth orbit (LEO) satellites and constellations of light, medium and heavy classes. The technology is based on previous platforms, including Triton-1 and Triton-2. The multi-mission, scalable and high processing Triton-X product line is adaptable to a variety of LEO missions and payloads.