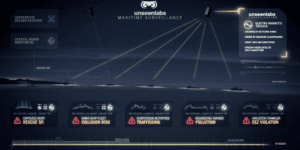 Edinburgh / Rennes, 5 May 2022. – Geolocation data service provider Unseenlabs, successfully launched its sixth and seventh satellites dedicated to locating vessels at sea. The first satellite was launched with SpaceX, while the second one was launched with Rocket Lab on their "There and Back Again" helicopter catch mission. Unseenlabs now has seven satellites in orbit.
The constellation is designed to be able to follow maritime traffic regardless of weather conditions and the time of day. The radio frequency (RF) data is analysed by Unseenlabs before provided for national security operations, environmental protection and for the commercial sector. 
The company claims theirs is the most advanced fleet of independent satellites for RF signals detection. Unseenlabs is planning to expand its team and extend its constellation dedicated to maritime geolocation to up to 25 satellites in the coming years.