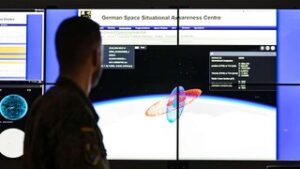 Edinburgh / Madrid, 5 May 2022. – The German Federal Office of Bundeswehr Equipment, Information Technology and In-Service Support (BAAINBw) has recently contracted Atos and OHB Digital Connect to supply the "Space Situational Awareness Center Expansion Stage 1" to the German Federal Armed Forces. The system will be based on privately owned technology business group GMV's COTS software for Space Surveillance and Tracking (SST).
The software comprises object cataloging, sensor tasking, collision avoidance, re-entry prediction, fragmentation detection and characterization, among others. The system will enable the monitoring of space and the protection of critical German infrastructure in orbit.
OHB is to add an operational layer for interoperability, while Atos will integrate all the components, creating interfaces with external sensors. GMV has recently been the awarded two contracts by the German Space Agency at DLR for SST data processing algorithms. These will be used for the development of the EU SST catalog and for maintaining and upgrading the German Space Situational Awareness Center's mission system.
Currently, over 70 GMV engineers work on SSA/SST activities in seven European countries. The company cooperates with the EU SST, ESA as well as with the commercial sector and the military.