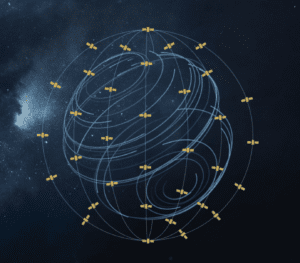 Edinburgh / Fairfax / McLean, 31 May 2022. – General Dynamics Mission Systems and global mobile voice and data satellite communications network Iridium Communications, have been awarded a contract by the Space Development Agency (SDA) in the amount of US $324,516,613. This includes a base amount of US $162,954,122 and US $161,562,491 in options, to establish the ground Operations and Integration segment for Tranche 1 of the National Defense Space Architecture (NDSA), the companies said. 
General Dynamics provides mission-critical solutions to defense, intelligence and cyber security customers across all domains. Together with Iridium, they will build ground entry points and operations centers. The companies will also provide network operations and systems integration services for the SDA's upcoming low Earth orbit satellites.
The provided services comprise enterprise-, network-, mission-, and payload data management, as well as constellation monitoring. The latter includes the ground segment, linkage, space domain, and user segments as well. 
General Dynamics and Iridium work with partners such as KSAT, Raytheon and EMERGENT. These cooperations enable them to develop, equip, staff, operate and maintain operation centers, operate ground systems, and lead ground-to-space integration, the companies stated.