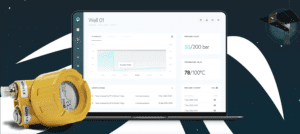 Edinburgh / Lausanne, 31 May 2022. – Global nanosatellite IoT (Internet of Things) network operator Astrocast, has signed an agreement to acquire Hiber, a Netherlands-based IoT-as-a-service provider, Astrocast said. Astrocast will acquire all of Hiber's shares in exchange for the issuance of new Astrocast shares, representing 16.5% of its share capital. Shareholders of Hiber are also to invest €10.45 million in Astrocast's public offering.
Hiber is a satellite-connected asset monitoring and tracking solutions provider catering to industrial customers such as oil and gas companies.  The acquisition is expected to expand Astrocast's distribution strategy and accelerate its OEM (Original Equipment Manufacturer) strategy as well as bringing onboard 50+ highly skilled and experienced IoT specialists. 
The procurement will expand the company's portfolio of products and services by integrating the HiberHilo and the Hiber Easypulse solutions. The deal will also add coverage of the Americas region and expand Astrocast's sales team as well as bring in Hiber's customers. These include ExxonMobil, Shell, Oil Search, NAM and ENI. In addition, Hiber's oil & gas expertise will allow Astrocast to further penetrate this market.