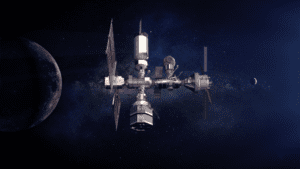 Edinburgh, 30 May 2022. – U.S. President Joe Biden and Japanese Prime Minister Fumio Kishida announced progress on collaboration for human and robotic lunar missions while confirming their commitment to include a Japanese astronaut aboard the lunar Gateway outpost as well as part of NASA's Artemis program to land on the Moon.
The United States and Japan are currently working on an Implementing Arrangement to formalize the Japanese astronaut's inclusion on Gateway. In recent years, the two countries have been collaborating on space and Earth science missions, and have been sharing data on climate change.
President Biden also said that the U.S. intended to share a sample from asteroid Bennu with Japan in 2023. Prior to this, Japan provided the United States with an asteroid sample collected by the Japan Aerospace Exploration Agency's (JAXA) Hayabusa2 asteroid sample-return mission.
Japan became an original signatory of the Artemis Accords in 2020. JAXA also entered into an agreement with NASA to help with Gateway's I-HAB, providing life support capabilities. JAXA will supply the environmental control and life support system, batteries, thermal control, and imagery components. All these systems will be integrated into the module by ESA before launch.