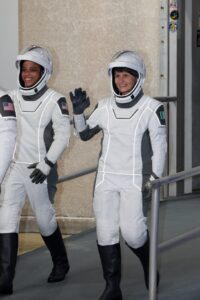 Edinburgh, 28 April 2022. – Crew Dragon Freedom has successfully docked to the ISS, carrying ESA astronaut and mission specialist Samantha Cristoforetti and NASA astronauts Kjell Lindgren (commander), Robert Hines (pilot) and Jessica Watkins (mission specialist). The crew has begun a six-month-long science mission as part of Expedition 67 and later Expedition 68.
The flight is Cristoforetti's second space mission, named Minerva. She will serve as USOS Lead, responsible for operations within the US Orbital Segment, ESA said. The US segment comprises the US, European, Japanese and Canadian modules of the space station.
The mission is Hines' and Watkins' first, and Lindgren's second space flight. Hines will serve as Flight Engineer during his time in space. Meanwhile Watkins is making history as the first black woman to be an ISS crew member. She is the fifth black woman to fly to space, following in the footsteps of Mae Jemison, Stephanie Wilson, Joan Higginbotham and Sian Proctor.
Crew-4 will conduct over 200 science experiments, with at least two spacewalks. The crew is to return to Earth in September.