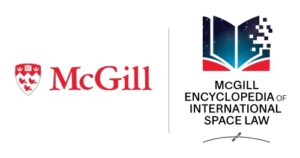 Edinburgh, 9 March 2022. – The Institute of Air and Space Law at McGill University is invigorating its work on the McGill Encyclopedia of International Space Law (MESIL), the university said. MESIL was first announced in November 2020. Its aim is to be the go-to authoritative, peer-reviewed and reliable online resource on international space law. 
MESIL is supported by renowned members of the international space law community. In 2021, the project also received funding from the Social Sciences and Humanities Research Council, the Government of Canada's funding agency.
Current publicly available literature on international space law is biased and lacks basic understanding of norms, technical and scientific know-how. The rapid growth of space industry raises strategic and geopolitical questions along with socio-economic and scientific benefits. 
Access to clear, objective knowledge of the legal principles and norms is vital to ensure the safety, security and sustainability of space, the university said. McGill University is well equipped to take on the project with its decades of research in air and space law. It has also managed the McGill Manual on International Law Applicable to Military Uses of Outer Space.