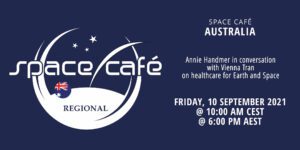 In this edition of Space Café Australia, our host Annie Handmer is joined by space medicine researcher Vienna Tran, to talk about how space affects the human body, the philosophical questions that arise from human spaceflight. They will also delve into the enduring complexity of the relationship between science, policy, and society, and how Vienna finds a sense of purpose through her work and her research.
Healthcare for Earth and Space
As billionaires compete to put humans in space, one question stands out: how will we ensure that people on long-duration space missions stay healthy?
Vienna is a space medicine researcher who has investigated the use of artificial gravity for the hip muscles of astronauts during a prolonged bed rest analogue. She holds a First-Class Honours degree from The University of Adelaide. She regularly gives public talks and writes articles for SpaceAustralia.com on space health, industry and STEM. In particular, she enjoys engaging with visitors in her role at the Australian Space Discovery Centre. In 2022, Vienna will be working in regional South Australia as a medical doctor to further her skills in healthcare for Earth and space.
Annie Handmer is a final year PhD Candidate at the University of Sydney's Faculty of Science, in the School of History and Philosophy of Science. Her research traces the social history of Australian space science projects in order to better understand international and interdisciplinary cooperation, the social construction of achievement, and the nature of the military-industrial-academic complex in Australian space science. In addition to her academic studies, she is on the Advisory Council for the Space Industry Association of Australia, a member of the Space Generation Advisory Council 'Ethics and Human Rights in Space' Project Group, the Space Law Council of Australia and New Zealand, program consultant to the Australian Youth Aerospace Association ASTRA Committee, and is also the host and creator of the Space Junk Podcast.
SpaceWatch.Global is a Switzerland-based digital magazine and portal for those interested in space and the far-reaching impact of the space sector.
This Space Café WebTalk will be conducted in English on 10 September 2021 at 10 am CEST / 6 pm AEST.
Reserve your place today.