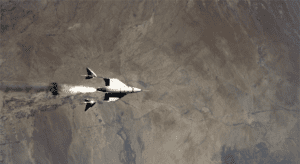 Paris, 28 June 2021. – Virgin Galactic obtained a license from the U.S. Federal Aviation Administration (FAA) to allow it to fly customers to space, the company said.
The FAA expanded Virgin Galactic's license as a commercial space transportation operator to allow it to carry people – or "space flight participants", as it said.
The FAA approval followed Virgin Galactic's disclosure of the results of its third test flight on 22 May from New Mexico and the confirmation "that the flight performed well against all flight objectives", Virgin Galactic said.
"The adjustment to Virgin Galactic's operator's license, which the Company has held since 2016, marks the first time the FAA has licensed a spaceline to fly customers," it added. "It is further validation of the Company's methodical testing program, which has met the verification and validation criteria required by the FAA."
Virgin Galactic's stock (symbol: SPEC) at the New York Stock Exchange (NYSE) soared following the news.