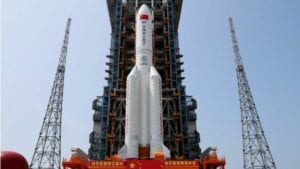 Paris, 7 May 2021. – The U.S. military has no plan to shoot down the Long March 5B's remnants when they are expected to plunge back on Earth this weekend, the Guardian quoted the U.S. defense secretary, Lloyd Austin.
According to Guardian and also the BBC, Austin said the hope was the rocket would land in the ocean and that the latest estimate was that it would come down between Saturday and Sunday. "We have the capability to do a lot of things, but we don't have a plan to shoot it down as we speak,", Austin said.
Long March 5B took off from China's Hainan island launch pad on 29 April to carry the Tianhe core element of the new Chinese space station.
Chinese state media dismissed in the meantime concerns about the falling debris.
It would be "very likely to fall in international waters and people needn't worry," said an expert cited by Global Times, a newspaper often used as an English-language state mouthpiece, international news agencies reported.
The European Space Agency (ESA) said it expects the rocket piece to re-enter the Earth's atmosphere on Sunday morning, stressing, however "that all forecasts have considerable uncertainties", as German news wire DPA reported.
ESA added that the area in question would include "any part of the Earth's surface between the latitudes of 41.5 degrees north and 41.5 degrees south".
"(L)arge parts of North and South America, South Asia, Africa and Australia belong to the risk area," DPA said. "In Europe, this would include parts of Spain, Italy, Portugal, Malta and Greece."