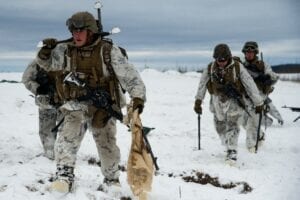 Paris, 7 May 2021. – The U.S. Air Force asked OneWeb and Hughes to connect its sites to and in the Arctic region, the companies announced.
Hughes and OneWeb announced their selection by the U.S. Air Force Research Lab (AFRL) "to demonstrate managed LEO satellite communications services to connect the Arctic region to sites around the globe", the companies said in a statement.
Under the agreement, Hughes will test and implement these end-to-end services on the OneWeb system between selected U.S. Northern Command locations, a first step in harnessing the power of LEO satellites for high-speed, low-latency broadband access in the Arctic, the statement added. 
As the prime contractor on the project, Hughes will lead adaptation, integration, testing and ongoing management of this service demonstration with OneWeb and Intellian, who are developing user terminals for use on the OneWeb network. Designed for ease of installation, the new Intellian terminals will utilize next-generation technology to provide a cost-effective system to access the low-latency, high bandwidth connectivity offered by OneWeb. 
With 182 satellites launched to date and regular 2021 launches planned and on-track, OneWeb claims to be able to "deliver coverage to the 50th parallel North and above by the end of 2021, bridging a long-standing connectivity gap".