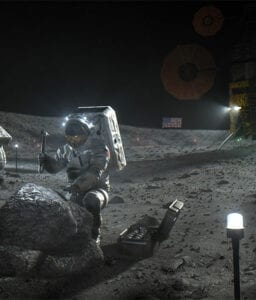 Paris, 22 April 2021. – Moon missions will generate more than $42 billion of revenue for the international space sector, NSR newest Moon Markets Analysis report found.
The report forecasts 140 Moon Missions launching over the next decade to generate $42.3 billion, NSR said. Major growth areas include orbital and surface infrastructure building.
NSR sees 68% of the total market revenues  to be generated by 2030 and dominated by lunar surface missions. The new report also forecasts the future revenue opportunity for lunar transportation, communications, remote sensing to equal $3.5 billion between 2020-2030.
"The race back to the Moon has begun, this time with a stronger focus on creating a sustainable and economic ecosystem", states Dallas Kasaboski, Principal Analyst and report co-author. "Following the commercialization of low-Earth orbit, governments are turning to the commercial market, providing opportunity for the development of commercial capability with true long-term potential."