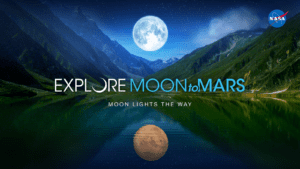 Paris, 2 July 2021. – NASA awarded fixed-price, milestone-based contracts of up to $45 million for commercial-led work on Moon landing services, the agency said.
NASA is seeking to mature designs and conduct technology and engineering risk-reduction tasks for the human landing system (HLS), which will ferry Artemis astronauts from lunar orbit to the surface and back, the agency said.
Prior to opening the call for commercial space lunar transportation on a recurring basis, NASA is asking U.S. companies to "hone HLS concepts and safety measures".
NASA's goal is to enable the safest and lowest cost long-term approach to access the lunar surface, and to be just one of multiple customers purchasing services in the lunar transportation market, the agency said.