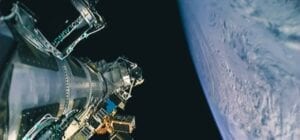 Paris, 2 July 2021. – Update from the launch front: 29 out of the 88 satellites that SpaceX launched in its Transporter-2 mission were sharing the ride through Exolaunch; another 3 are from the European Space Agency (ESA), Exolaunch and ESA said.
With these 29 satellites, Exolaunch said it delivered one metric ton of payload for customers from the United States, South America and Europe into orbit. The mission was called 'Fingerspitzengefühl', in German, which means 'fingertip sensitivity' or 'fingertip feeling'.
It was Exolaunch's 13th rideshare mission, the company said, and the second in a series of rideshares Exolaunch is manifesting on Falcon 9 as part of a Multi-Launch Agreement the company signed with SpaceX in 2020.
The ESA nano-satellites on that SpaceX rideshare were launched as part of ESA's Pioneer Partnership Programme, with support from the UK Space Agency, the agency said.
Two of the satellites, equipped with terminals enabling optical inter-satellite links, were developed by Spire, a UK-based data and analytics company that uses a constellation of nanosatellites to track weather patterns and follow maritime and aviation traffic.
The third was developed by In-Space Missions, a satellite manufacturer based in the UK that offers rideshares. The spacecraft will support eight different payloads from companies including Lacuna Space and SatixFy, both based in the UK.
In the meantime, OneWeb successfully launched 36 more satellites for its internet constellation on a Soyuz rocket commercialized by Arianespace from Vostochny in Siberia.
OneWeb says it now has 254 satellites in the Low Earth Orbit (LEO), enough to start commercial services and offer connectivity in important parts of the Northern hemisphere.
OneWeb says it is thus on track for full global coverage by June 2022 with a LEO constellation of 648 satellites.