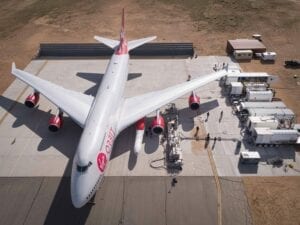 Paris, 22 April 2021. – Virgin Orbit will launch a series of six hyperspectral LEO satellites for the defense and security company QinetiQ and the geospatial analytics company HyperSat, Virgin Orbit said. Virgin Orbit will provide launch services for each satellite via its LauncherOne system.
The first satellite will launch no earlier than 2023 and will be able to image 500 spectral bands from the visible to shortwave infrared regions, with a ground sample distance of 6m, the Californian company said. Subsequent satellites will offer longwave infrared images and more capability in the shortwave infrared region.
The high spatial and spectrum pixel resolution available from its sensor payload will allow the satellites to be used not only in defense and security applications, but also for other commercial sectors, such as agriculture and insurance, where highly accurate Earth observation images can inform critical decisions.
HyperSat has awarded a design-phase contract to QinetiQ to develop the satellites and lead a team of engineering and technology organizations including Redwire, Millennium Engineering and Integration, and Brandywine Photonics, Virgin Orbit said