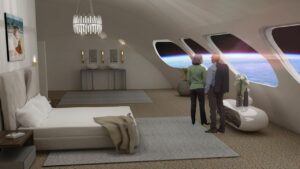 Paris, 15 March 2021. – A special trip: Orbital Assembly Corporation is planning to open its first hotel in space in 2027, the company's CEO, former pilot John Blincow, told CNN.
The space construction company that also builds space gateways, power and fueling stations, wants to start the works on the space hotel in 2026, CNN and other media reports said.
The structure is a big wheel with cabins that rotates in order to simulate gravity. OAC calls it the "first commercial space station with artificial gravity" on its website.
The company's COO Tim Allatore explained that the hotel's design was directly inspired by Stanley Kubrick's "2001 – A Space Odyssey" movie – in the sense that he called it "almost a blueprint of what not to do."