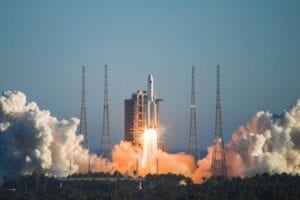 Luxembourg, 30 April 2021. – China has successfully launched the core element of its new space station, officials and media reported.
The module lifted off on a Long March-5B rocket from the Wenchang launch site on the southern island of Hainan and was successfully deployed in low Earth orbit.
The 16.6 meters long module called Tianhe (which means "harmony of the heavens") is the core element of the T-shaped new space station; the other two elements are to be launched until the end of next year, according to Chinese state-owned media and the China Aerospace Science and Technology Corporation (CASC).
The International Space Station (ISS)'s role "as the sole venue for a continuous human presence in space, scientific research and a testing ground for future space exploration is coming to a close," CNN commented, "potentially signaling an end to an unparalleled era of international cooperation in space."