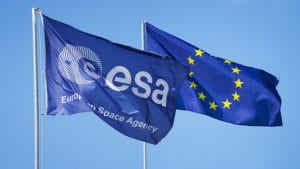 Luxembourg, 31 March 2021. – Europe is moving on in Space Traffic Management (STM): the third preparational meeting for the upcoming European STM Conference was held virtually last week.
The hearing for EU and ESA Member States delegations was attended by more than 20 countries, EU institutions (Commission, External Action Service and Council Secretariat) and ESA executives, bringing the entire audience to more than 80. 40 presentations in four sessions demonstrated an unprecedented diversity of aspects related to STM, participants said.
In the first session, nine Member States presented their views, practices, legislations and regulations: Belgium, Estonia, Finland, France, Germany, Luxembourg, Romania, Switzerland, and the United Kingdom.
The second session gave non-governmental institutions such as think tanks and universities the opportunity to present their views. These were: the European Space Policy Institute (ESPI), the Academie de l'Air et de l'Espace (AAE), Rasmussen Global, BHO-Legal, the Space Generation Advisory Council (SGAC), Space-SI, the University of Alcalá, the University of Bern, the Centre of Excellence on Sustainable Space Research Helsinki, the University of Maribor, and the Università Sapienza.
The third session was focusing on industry, coordinated by the German Ministry for Economic Affairs and Energy: ASD-Eurospace, EMEA Satellite Operators Association (ESOA), Clearspace, GMV, KSAT, NorthStar, PERASPERA, Space Analyses, SpaceTec, Swedish Aerospace Industries, Swedish Space Corporation, and Telespazio.
The fourth session invited major actors outside of Europe to present their views; these were: the Japan Space Forum, the U.S. Department of Commerce with the U.S. Department of State, the Chair-elect of the United Nations Committee on the Peaceful Uses of Outer Space (UNCOPUOS), Marius-Ioan Piso, the Chair United Nations Committee on the Peaceful Uses of Outer Space, Scientific-Technical Subcommittee (UNCOPUOS-STSC), Natália Archinard, the United Nations Office for Outer Space Affairs (UNOOSA), the International Telecommunication Union (ITU), the International Academy of Astronautics (IAA), Jana Robinson, the World Economic Forum (WEF), and SpaceX.
The conference set an "excellent basis" for the Preparatory Group, participants said. A further mapping is to be discussed in April; the European STM Conference is scheduled for early July 2021.
Related articles:
Europe takes next step towards STM conference
Europe sets course to prepare its position on Space Traffic Management (STM) conference