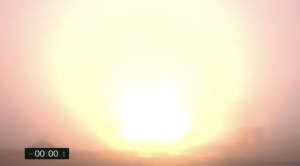 Luxembourg, 31 March 2021. – "Another exciting test", SpaceX said: Starship SN11 reached ten kilometers altitude, turned round for its descent and then disappeared in the thick fog of South Texas in this fourth high-altitude or "atmospheric" flight test that SpaceX conducted.
Starship SN11 "is not coming back, don't wait for the landing. We do appear to have lost all data from the vehicle", SpaceX commented the frozen picture of the live broadcast and has not given details of what happened to Starship SN11 above the Starbase in Texas since.
It is the fourth attempt and the fourth loss of a Starship in four months.
"A controlled aerodynamic descent with body flaps and vertical landing capability, combined with in-space refilling, are critical to landing Starship at destinations across the solar system where prepared surfaces or runways do not exist, and returning to Earth", SpaceX said when it prepared for the new attempt.
"This capability will enable a fully reusable transportation system designed to carry both crew and cargo on long-duration, interplanetary flights and help humanity return to the Moon, and travel to Mars and beyond."
SpaceX has not yet announced a new date for the next, fifth Starship flight attempt.