by Dr. Moriba Jah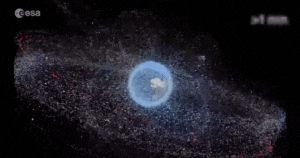 The U.S. Department of Commerce's Office of Space Commerce (OSC) will finally get its chance to demonstrate to the rest of the space community its value-added in taking stewardship of civil space situational awareness and space traffic management, as was indicated in National Space Policy Directive #3, signed on June 18th of 2018. This will be through a Congressionally-mandated Space Traffic Management Pilot (STMP) program to develop an initial Open Architecture Data Repository (OADR).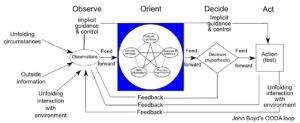 If I were asked what a successful STMP program should look like, or not, I'd have a few things to say. For one, the STMP program can't be a "fund [insert name of organization that will waste funds here] to do a study on what an operationally relevant STM program should be." I believe that the STMP program should focus the OADR on exposure, credibility, and influence within the framework of John Boyd's infamous OODA Loop. OSC should mostly focus the OADR on being the Orient part of the OODA Loop whilst providing the global community the ability to interact with the OADR via the delivery of space domain information and services that support and enable decision intelligence. I'll define decision intelligence to be the ability to understand, use and manage information in such a way that leads to desired outcomes.
Related to exposure, this is all about collecting multi-source information related to the space domain and making this as openly and easily accessible as possible through sound and rigorous data engineering. I'll define data engineering to be the tradecraft involved in data modeling, curation, and conditioning via quality control, as well as the actual computational framework to make these accessible. The OADR will only be as useful as the community that can access and use it.
For credibility, the SMTP program must develop the OADR to go beyond what is currently available to the space community via the U.S. Space Command's Space-Track.org, including the services currently available to those who have signed bi-lateral agreements under the space situational awareness and data sharing program. Satellite owners and operators have already expressed that the existing capability is necessary but insufficient to deliver on accurate, timely, and precise space safety, security, and sustainability decision intelligence needs. The OADR will have to be more than a glorified "Dropbox" and through rigorous data engineering and data science, measurably and demonstrably show that it provides the following three things:
Increased transparency of the space domain

what anthropogenic space objects (ASOs) are in orbit
who these ASOs belong to, including which nation states are liable for them
what these ASOs are capable of doing operationally and functionally

Increased predictability of the space domain

where will ASOs be
who needs to be warned
how do we coordinate and plan ASO events and activities, etc.

Develops a body of evidence, in the spirit of "continuing supervision," that can be used to hold space actors accountable for their behavior(s) in space
I'll define data science to be the tradecraft involved in going from data to information and from information extracting knowledge to support and enable decision intelligence. A Data Renaisscientist is a master at this tradecraft of using data as a chisel to remove ignorance and thus freeing sculptures of knowledge. The OADR must enable a commercial marketplace for space domain Data Renaisscientists to provide space safety, security, and sustainability services but this cannot happen without the data engineering. I argue that the OADR's data engineering must be an inherent government function in order to ensure equity, the public's best interest, and minimizing confirmation bias or prejudice. All of our data and models are mired in uncertainty. Rudolf Kalman stated that, "uncertain data cannot provide exact models,"[1] and the only way this could be a result is if the data scientist injects prejudice into the process. I couldn't agree more.
Finally, regarding influence, the OADR will only be as useful as the decisions that the community makes as a result from using it. I'll define a decision to be an irreversible commitment of a resource. If you can change your mind for free, without cost or consequence, then a decision has not been made. Influence can then be quantified as those satellite owners and operators that make irreversible commitments of their time and resources based upon or as a consequence of their use of the OADR.
To be sure, what I have just laid out isn't going to be easy to achieve, especially in a landscape where there are those other than OSC who want to be the ones controlling this effort. However, everything I have stated is not only possible, but likely given the right leadership and will to do what's best for the space community. Pulling this off will require an ability to masterfully smell the vacuous and be deaf to its mumbling incoherence whilst keeping laser focus on what I previously described: exposure, credibility, and influence.
---
[1]  Kalman R.E. (1982) Identification from Real Data. In: Hazewinkel M., Kan A.H.G.R. (eds) Current Developments in the Interface: Economics, Econometrics, Mathematics. Springer, Dordrecht. https://doi.org/10.1007/978-94-009-7933-8_16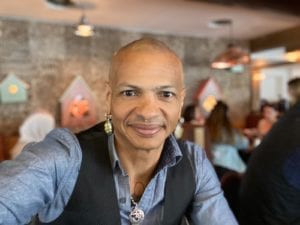 Moriba Jah is an Associate Professor of Aerospace Engineering and Engineering Mechanics at The University of Texas at Austin where he is the holder of the Mrs. Pearlie Dashiell Henderson Centennial Fellowship in Engineering. He's the director for Computational Astronautical Sciences and Technologies (CAST), a group within the Oden Institute for Computational Engineering and Sciences as well as the Lead for the Space Security and Safety Program at the Robert Strauss Center for International Security and Law. Moriba came to UT Austin by way of the Air Force Research Laboratory and NASA's Jet Propulsion Laboratory prior to that, where he was a Spacecraft Navigator on a handful of Mars missions. Moriba is a Fellow of multiple organizations: TED, American Institute of Aeronautics and Astronautics (AIAA), American Astronautical Society (AAS), International Association for the Advancement of Space Safety (IAASS), Royal Astronomical Society (RAS), and the Air Force Research Laboratory (AFRL). He has served on the US delegation to the United Nations Committee On Peaceful Uses of Outer Space (UN-COPUOS), is an elected Academician of the International Academy of Astronautics (IAA), and has testified to congress on his work as related to Space Situational Awareness and Space Traffic Management. He's an Associate Editor of the Elsevier Advances in Space Research journal, and serves on multiple committees: IAA Space Debris, AIAA Astrodynamics, IAF Astrodynamics, and IAF Space Security.