Space BD Inc., the leading space startup in Japan that provides access to space using the International Space Station (ISS) Japanese Experiment Module "Kibo" and rideshares on Japan's flagship launch vehicle "H3", and ALE, with the mission to make space closer for people announced that they concluded a Letter of Intent

(LOI) on 26th August 2020 towards a global Sales Agency Agreement for the space debris prevention component utilizing EDT (ElectroDynamic Tether)
Space debris prevention component utilizing EDT (ElectroDynamic Tether)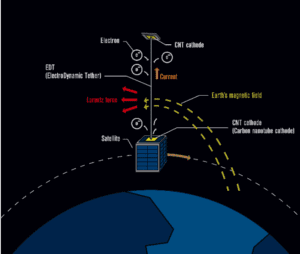 his device aims at space debris mitigation measures. It will be loaded onto a satellite before launch and will extend a long tether (EDT) in space after the completion of the satellite mission. Using the Earth's magnetic field and atmospheric drag, the orbital altitude is lowered in a shorter period of time and enables the satellite to re-enter the Earth's atmosphere and burn up. As part of the JAXA Space Innovation through Partnership and Co-creation(J-SPARC) project, ALE has developed this world's first PMD* device using a carbon nanotube electron source and EDT.
Due to the recent flurry of space development, it is agreed that if flying objects in space increase, in the near future they will start to collide, and space debris will self-propagate and generate in large volumes. As a result, there are concerns raised that there will not only be an increase in risk of destruction of existing satellites but also an adverse effect on planned satellite launches and the use of satellite data, which is becoming a part of social infrastructure.
In addition, actions are being taken in various countries around the world and by international organizations to impose legal obligations on businesses to implement measures to reduce space debris. Therefore, artificial objects which are going to be launched into space in the future will be demanded to take measures to prevent themselves from becoming space debris, and expectations of this device are heightening according to trends in this market and industry.
*PMD (Post Mission Disposal): method to promptly deorbit satellites after the completion of satellite mission
Background of development and agreement

ALE's vision is to "anchor space into our culture to empower humankind to new endeavors" and the company aims to contribute towards the sustainable development of the humankind, the range of whose activities may well expand beyond the Earth.
Working towards the realization of this vision, ALE is developing space entertainment, such as man-made shooting stars, that is aimed to sparks people's curiosity, accumulation and utilization of middle atmospheric data which will enable to help characterize the mechanisms behind climate change, and this device that contributes to creating a sustainable space environment.Space BD focuses on business development to promote industrialization of space. Space BD makes space accessible to everyone by expanding space utilization and providing the satellite launch service, the utilization service of the International Space Station Kibo, etc. In order to develop the space industry sustainably, Space BD also promotes the space debris prevention. Space BD will contribute ALE's widen and speed up market reach by providing the experience and market connections in Japan and overseas countries.Through this business alliance, both companies are aiming to create a sustainable space environment by suitably and effectively developing and conducting outreach activities for the market.