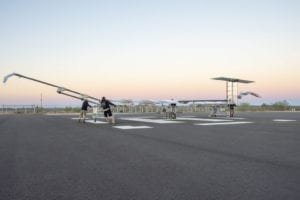 Paris, 7 December 2020. – Solar powered, stratospheric: The Zephyr High Altitude Platform Station (HAPS) completed a long test flight in November, Airbus Defence and Space announced.
The test which was held during three weeks in Arizona, U.S., "aimed to demonstrate operational flexibility and aircraft agility, particularly testing lower altitude flying and early stage transition to the stratosphere", Airbus said.
Zephyr is an ultra-light Unmanned Aerial System with a wingspan of 25 meters; it operates in the stratosphere, 70,000 feet or 21 kilometers high and above clouds, jet streams and the conventional air traffic. Zephyr runs exclusively on solar power and is to provide a wide scope of applications, ranging from maritime surveillance and services, border patrol missions, communications, forest fire detection and monitoring, or navigation.
"Zephyr has the ability to stay focused on a specific area of interest (which can be hundreds of miles wide) while providing it with satellite-like communications and Earth observation services (with greater image granularity) over long periods of time without interruption", Airbus says.