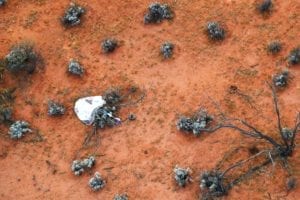 Paris, 7 December 2020. – Back from a five billion kilometers journey after six years: The Japanese Hayabusa-2 probe brought samples from the asteroid Ryugu to Earth and parachuted a capsule with the precious material in South Australia, Japan's space agency JAXA and Australia's space agency reported.
The capsule – 40 centimeters in diameter and 16 kilograms heavy – was recovered by a helicopter in the prohibited area of Woomera in the Australian outback and will be brought to Japan for extensive laboratory analysis.
Hayabus-2 is Japan's second mission that brings material back from an asteroid and was launched in December 2014 to arrive at Ryugu in June 2018.
Ryugu is a relatively 'raw' asteroid which has not changed a lot since the early days of our solar system. It is therefore supposed to provide scientists deep insights into the origin and evolution of our solar system and life on Earth.
The Hayabusa-2 spacecraft departed for another mission.