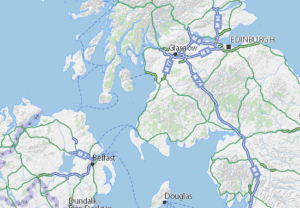 Paris, 24 November 2020. – The Governments of the UK and Scotland and the Council of South Ayrshire in Scotland are investing more than £80 million in a space center and launch site in Ayrshire near Glasgow, the governments said.
The funding package will develop and support a wide range of aerospace and space activities around Glasgow Prestwick Airport, the announcement said, including a satellite launch site and "a range of other advanced technology initiatives".
This investment forms part of a larger £250 million package that was announced 18 months ago.
The commitment "reinforces Ayrshire's position as a leading UK aerospace hub", the parties said. The region employs over 3,500 people in companies such as Spirit AeroSystems, BAE Systems, GE Aviation, Collins Aerospace, Woodward and National Air Traffic Services (NATS). They account for more than half of the aerospace industry's workforce in Scotland.
The recent financial boost aims to add another 4,000 jobs by 2035, the parties said.