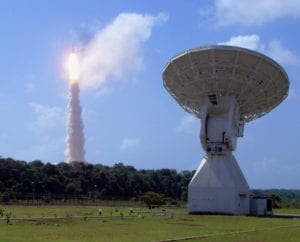 Paris, 23 November 2020. – The European Space Agency (ESA) supports China's lunar sample return mission Chang'e-5, which was successfully launched on a Long March rocket last night, by relaying signals from the spacecraft across the Solar System with its ground station network, the agency said.
ESA's Estrack network is a global system of ground stations providing communication between spacecraft and ESA's ESOC mission control centre in Darmstadt, Germany. ESA will use ground stations in French Guiana and Spain.
ESA sees its ground station network "uniquely equipped to support lunar exploration missions due to advanced technology and a global geography". "(G)round stations are an important element in the Agency's ambitious lunar exploration goals, supporting ESA, international partners and European industry", it said.
The Chang'e-5 mission comprises a lunar orbiter, a lander and an ascent probe that will lift surface samples back into orbit for a return flight to Earth, ESA said.  It is supposed to collect two kilograms of lunar samples.
ESA has launched an initiative dubbed 'Moonlight' to support the space industry in lunar missions and federate the multiple efforts to develop lunar communication and navigation services.