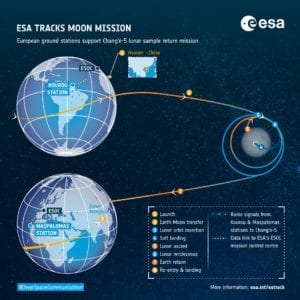 Paris, 24 November 2020. – China successfully launched its Chang'e-5 lunar sample return mission last night on a Long March 5 rocket, Chinese television and international media reported.
Chinese CGTN television showed the successful lift-off, separation and solar array deployment live from the Wengchang satellite launch and control center in the Southern Hainan province.
The Chang'e-5 mission comprises a lunar orbiter, a lander and an ascent probe that is supposed to bring surface samples back into orbit and return them to Earth.
The mission is supposed to collect two kilograms of lunar samples. This is the first time in over 40 years, since the U.S. Apollo and the Soviet Luna missions in the 60's and 70's, that humans bring lunar samples back to Earth.
Chang'e-5 is China's sixth lunar mission, CGTN said. A Long March 5 launch attempt in 2017 had failed.