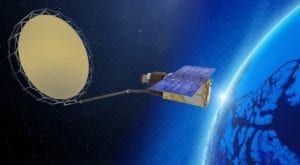 Paris, 15 November 2020. – The European Space Agency (ESA) has signed up for three new Copernicus environmental missions with an overall value of €1.33 billion, the agency said. Copernicus is the biggest provider of Earth observation data in the world.
Thales Alenia Space France is to lead the development of the Copernicus Hyperspectral Imaging (CHIME) mission, with a contract worth €455 million. CHIME will provide enhanced services for sustainable agricultural and biodiversity management.
Thales Alenia Space Italy is to develop the Copernicus Imaging Microwave Radiometer (CIMR) mission, with a contract worth €495 million. The mission will measure sea-surface temperature, sea-ice concentration, thickness and drift as well as sea-surface salinity, ESA said.
The third contract, worth €380 million, was signed with Airbus Spain for the Copernicus Land Surface Temperature Monitoring (LSTM) mission. It will carry a sensor to deliver observations of land-surface temperature and thus support sustainable agriculture in Europe.
The full implementation of these contracts will depend on further agreements between ESA and the European Commission, the agency added, a decision with is planned for the second half of 2021.
The overall space budget of €13.2 billion approved by the European Parliament is nearly €3 billion lower than expected and planned a year ago, a reduction that is likely to also affect the execution of the Copernicus programs.
ESA is planning in total six Copernicus missions to complement and fill the gaps in the current Sentinel portfolio. Last summer, it had signed contracts for two other programs: the Copernicus Carbon Dioxide Monitoring and the Copernicus Polar Ice and Snow Topography Altimeter mission.