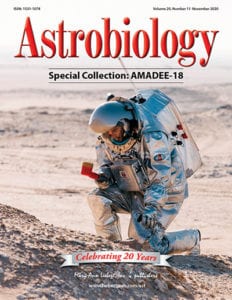 Paris, 17 November 2020. – The Astrobiology Journal has published the findings of the international simulated Mars mission AMADEE-18, which took place in February 2018 in the desert of Oman.
From February 1 to 28, 2018, the Austrian Space Forum lead the mission in the Dhofar region in the Sultanate of Oman. In cooperation with the Oman Astronomical Society and research teams from 25 nations, the Austrian Space Forum simulated a human-robotic Mars expedition conducting 19 experiments relevant to astrobiology, engineering disciplines, geoscience, operations research, and human factors.
The Astrobiology Journal released a special edition on the mission with a collection of six papers highlighting selected findings of this expedition.
Gernot Grömer, Director of the Austrian Space Forum, said:" This special edition of Astrobiology Journal marks a milestone in our commitment to share our findings with the scientific community. Through simulating Mars missions and subsequently publishing their results the Austrian Space Forum has dedicated itself to further preparations of the human exploration of the Red Planet."
The Austrian Space Forum's next mission will take a crew of six astronauts to Israel in October 2021, the Forum said. The mission will be hosted by the Israel Space Agency and conducted in cooperation with science teams from nine countries.