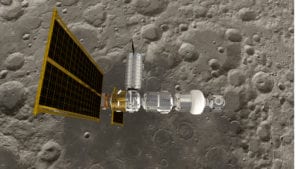 Paris, 17 November 2020. – NASA is seeking partners to produce advanced imagery of its Artemis missions to Moon and Mars.
"We're looking for partners to use advanced technologies, imagery applications and approaches that will go beyond our standard coverage on NASA TV," said NASA Administrator Jim Bridenstine. "We want to capture the awe of Apollo for a new generation – the Artemis Generation."
The agency has released an Announcement for Proposals calling for submissions of potential partnerships; it will start with a trip around the Moon with astronauts on the Artemis II mission, which is targeted for 2023. Proposals are due by 11 December 2020, the agency said.
The announcement primarily focuses on proposals that include potential innovative technologies or hardware, such as cameras or other equipment that a partner might fly on the mission to augment existing NASA imagery, the agency said.
NASA welcomes responses from broadcasters, studios, the aerospace industry, academic institutions, and nonprofit organizations, as well as collaborations between multiple entities.
Through the end of this decade, NASA wants to explore the lunar surface and establish a sustainable human presence on the Moon, in preparation for future human missions to Mars.