The Vernadsky Challenge, a competition for hardware startups, is accepting applications for engineering startups in the fields of space technologies & active bioelectronics. The winner will receive a grant of $60,000.
The Vernadsky Challenge is an engineering startup competition organized by Noosphere, and provides opportunities for the development of promising projects and innovative ideas.
The competition has been held since 2015 and was initiated by philanthropist and founder of the Noosphere Max Polyakov . The goal of the Vernadsky Challenge is to help talented engineers develop their innovative products. Over the past 5 years, 649 projects have entered the competition, of which 45 have become finalists.
For the first time in 2019, the competition became part of the Noosphere Space Summit, an international conference dedicated to the New Space movement. Representatives of companies such as Airbus Defense & Space, D-Orbit and Firefly Aerospace joined the Vernadsky Challenge jury.
The types of startups that can participate:
space technologies (rockets, launch systems, satellites, space engineering and all devices designed for space exploration and development)
active bioelectronics (devices that will help restore lost body functions or replace an organ; biotechnologies in medicine, prostheses, exoskeletons, medical devices, medical equipment and technologies for people of specific professions)
How to apply
Download and fill out the registration form.
Send it to

[email protected]

before September 1, 2020.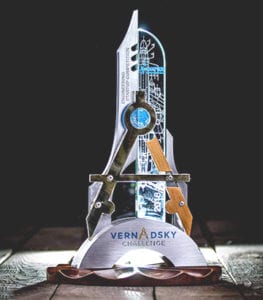 For 2020, the finals of the competition will be held on October 14th. 12 teams will present their projects in the field of space technology and active bioelectronics before the international jury of the Vernadsky Challenge. Teams with the most promising ideas will receive a grant for the development of a startup.
Don't miss the opportunity to receive grant funding, professional expertise, and access to innovative scientific and technological solutions.
For more details visit: vernadskychallenge.com