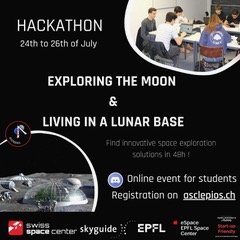 The student-led space simulation
Asclepios
is organizing a hackathon, and they need creative minds and innovative university students to participate. The goal of this hackathon is to brainstorm and think of new ways to solve problems regarding the exploration of the moon and the life in a lunar base.
Participants should either formulate their own project ideas to meet this theme, or select from some example "astronaut scenarios." These scenarios might include experiments with rover design, integrated biometric systems, integrated central computer application design, and/or technological solutions to human factors improvement for mood, comfort, and performance.
The final product can be provided at the conceptual level in the form of a proposed minimum viable product/proof-of-concept (research question). The best ideas will have the opportunity to be developed in the upcoming Asclepios missions with the ultimate goal of having your ideas realized in space!
This is a great possibility to gain experience in design thinking, space mission design, and innovation for space. Furthermore, it is an opportunity to communicate, realize, and implement your ideas in a real-world environment.
The hackathon begins on 24.7.2020 at 18:00 with final submissions due by 26.7.2020 at 18:00. Presentations and demonstrations for the student projects will occur at 19:00 on 26.7.2020 in a live Zoom conference. Do not worry if you do not currently have a team as you will be matched with other people with similar interests.