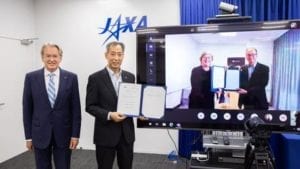 The Australian Space Agency and the Japan Aerospace Exploration Agency (JAXA) have signed a Memorandum of Cooperation (MOC) signalling new opportunities to increase space collaboration between the two nations. The signing took place at a bilateral meeting between the Agency and JAXA, and was later acknowledged at the Australia-Japan Virtual Leaders Meeting with Prime Minister Scott Morrison and Prime Minister Shinzō Abe.
Australia and Japan's history of space cooperation includes:
the trials of the Japanese Automatic Landing Flight Experiment at Woomera in 1996,
the launch of Australia's FedSat in 2002, development of the 'Cangaroo' Gamma-ray telescopes from the 1990s and 2000s
the NEXST-1 supersonic flight experiments at Woomera in 2002 and 2005
the return of Hayabusa1 in 2010, and in late 2020 the planned return of Hayabusa2 to Australia.
Head of the Australian Space Agency Dr Megan Clark AC says the Agency and JAXA will identify new areas of cooperation in space technology, applications, education and outreach.
"JAXA's experience in space missions and its deep expertise and in space communication, precise positioning, robotics and education make them an outstanding strategic partner for the Australia," Dr Clark said.
"Collaboration opportunities like Kibo-ABC, enables industry, researchers and students to be involved in innovative experiments in the unique microgravity environment of the International Space Station, including robot programming challenges and growing seeds in space."
The Australian Space Agency is working closely with JAXA on a range of activities, including the planned return of JAXA's asteroid explorer Hayabusa2. This activity is being undertaken in collaboration with the Department of Defence, Defence Science and Technology Group, and CSIRO.
The Australian Government is investing over half a billion dollars in the space industry to support the growth of high tech jobs, and other space enabled areas of the economy including agriculture, manufacturing and mining as we emerge from the COVID-19 crisis stronger than ever.
The Memorandum of Cooperation on Space Cooperation for Peaceful Purposes between the Agency and JAXA was signed by the agency heads on 7 July 2020 in a virtual bilateral meeting. At JAXA's request, the Agency will not be publishing the text of the MOC.