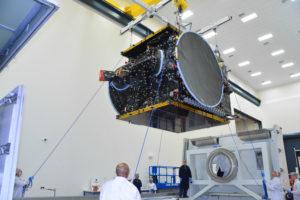 Bulgaria Sat, the operator of BulgariaSat-1 broadcasting and communications satellite, is aiming to lease 65 percent of the satellite's capacity within two years, according to the Chief Executive Officer of the company, Maxim Zayakov.
Currently BulgariaSat-1 is operating at 15 percent leasing capacity, but Zayakov hopes that the Bulgaria Sat company can increase the number of users quickly in order to start making a return on the initial U.S.$230 million investment. Current users of BulgariaSat-1 include broadcasters from Serbia (Polaris Media), Germany, Iraq, and Bulgarian channel bTV for remote broadcasts.
Zayakov told Bulgarian business journalists that Bulgaria Sat is presently in negotiations with potential broadcasters from Greece, Belgium, Romania, and Ukraine. Zayakov hopes that these potential clients will help Bulgaria Sat achieve a 65 percent lease capacity in two years, and hopes that this can be parlayed into 80 percent lease capacity within five years.
Zayakov also mentioned that significant savings have already been made as BulgariaSat-1's launch by SpaceX in 2017 saved enough fuel on the satellite to extend its operating lifetime to 20 years. "This will help us plan our business longer," Zayakov said.
Bulgaria Sat has experienced a rocky, even troubled, start in its business. The BulgariaSat-1 satellite was initially conceived by Zayakov and then business partner Plamen Genchev, who were the founders of Bulsatcom. Genchev and Zayakov became major shareholders of Bulgaria Sat and took out a U.S.$15i million loan from the U.S. ExIm Bank and a 85 million Euro (U.S.$93.45 million) loan from a consortium of lenders that include Deutsche Bank-London, European Bank for Reconstruction and Development (EBRD), Raiffeisen Bank, Citi Fund, and KBC, to fund the build and launch of BulgariaSat-1.
Bulgaria Sat, however, could not carry out its core business because of unsustainable debt levels, and its investors are now in the midst of restructuring the company.
As a result, Maxim Zayakov left Bulsatcom and took control of struggling Bulgaria Sat, becoming a major shareholder along with George Skikos, the former technical director of Hellas Sat. Plamen Genchev, meanwhile, remains at Bulsatcom where that company's creditors are now shareholders. Blackrock, Blantyre, Ulas Investments of the Bulgarian Development Bank, EBRD, and Genchev are among these shareholders of Bulsatcom.
Bulstacom and Bulgaria Sat had signed a long-term contract prior to the 2017 launch of BulgariaSat-1 for the former to be the largest user of the latter's satellite, but ultimately the board of Bulsatcom decided to use Hellas Sat, its long-time satellite broadcasting provider.
In December 2019 Bulsatcom and Bulgaria Sat announced the termination of their contract, although it is unknown whether either party has paid out any penalties.
BulgariaSat-1 was built by U.S. satellite manufacturer Space Systems-Loral, now a subsidiary of Maxar Technologies, after being awarded the contract in September 2014. BulgariaSat-1 was launched by a SpaceX Falcon 9 satellite launch vehicle from Cape Canaveral, Florida, on 23 June 2017.