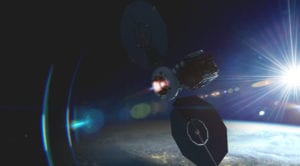 Momentus Space, an in-space shuttle service provider, has announced that it will provide shuttle services on its Vigoride shuttle for two demonstrators this year with the aim of beginning full commercial services in 2021.
The first full-scale Vigoride test mission "Strait of Magellan" is planned for Q3 2020 on the Soyuz rocket. Another test mission "Amber Road" is planned in December 2020 on the SpaceX dedicated rideshare mission.
Momentus will use their Vigoride service to move satellites with masses up to 250 kg from the International Space Station (ISS) orbit all the way up to 2,000 km. Vigoride can be launched from an EELV Secondary Payload Adapter (ESPA) dispenser, from ISS airlocks, or from almost any small dedicated launcher or larger rideshare vehicle.
Satellites with masses up to 300 kg may be moved from LEO to Geosynchronous Transfer Orbit, or up to 100 kg directly from LEO to GEO, Lunar orbit, and beyond may use the Vigoride Extended service which can be launched from almost any small dedicated launcher or larger rideshare vehicle.
In a statement, Exolaunch Chief Executive, Dmitriy Bogdanov, has explained that Vigoride will give clients "an unprecedented flexibility of satellite deployment, reducing the price of launch, and giving access to orbits not typical for ridesharing vehicle".
Momentum believes its joint efforts in flexible ridesharing this will open a new paradigm in flexibility for custom drop-off altitudes and orbits in space. While charter service will include only an orbital transfer and require the customer to procure a launch, its Shuttle Service includes launch provisions and the orbital transfer. More options…flexibility, and savings ultimately!
After demos are completed in Q3/Q4, quarterly launches will be available in 2021 and beyond.