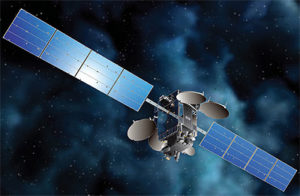 AzerCosmos, the state space company of Azerbaijan, reports that it generated revenues of U.S.$43.4 million from the export of its satellite communications and Earth observation services in the calendar year of 2019, a 70 percent increase over its exports in 2018.
In 2018 AzerCosmos generated only U.S.$25.6 million in export revenues.
These export revenues for 2019 represents 88 percent of AzerCosmos' total revenues for the year. AzerCosmos provided satellite services to 27 countries in 2019, to include the United States, United Kingdom, United Arab Emirates, France, and Malaysia.
Azercosmos is the premier satellite operator in the South Caucasus, which is comprised of Azerbaijan, Armenia, and Georgia.
Azerspace-1, the telecommunication satellite operated by Azercosmos, provides highly-reliable broadband and broadcast solutions to its customers in Europe, Africa, Middle East, the Caucasus, and Central Asia. The satellite was launched in February 2013 and is equipped with 24 C-band transponders and 12 Ku-band transponders and is located at 46° East longitude.
In December 2014, Azercosmos took over the rights to operate and commercialize Azersky, a high resolution (1.5m imagery products) optical Earth observation satellite and entered into the commercial business of Earth observation services, including Geo-Information services.
The strategic development plans of the company included enhancing the coverage area and spectrum of satellite services. For this purpose, in 2018, Azercosmos launched its second telecommunications satellite Azerspace-2 in a geostationary orbit 45° East longitude.