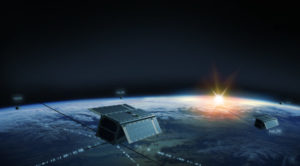 Astrocast and D-Orbit announced on 30 October 2019 the signing of an agreement for the launch and deployment in LEO low inclination orbit of ten Astrocast nanosatellites through D-Orbit 's InOrbit NOW Launch Service. The agreement calls for the Astrocast nanosatellites to be launched onboard an Arianespace Vega or Vega C vehicle from Kourou, French Guyana, in the first quarter of 2022.
This batch of nanosatellites will make up the Astrocast IoT Nanonsatellite Network's equatorial plane. The Astrocast constellation will consist of eight orbital planes, each consisting of eight operational and two spare satellites. The complete 80-unit Low Earth Orbit network will provide cost-effective two-way communications for the millions of IoT devices in remote areas of the world. Astrocast's constellation is expected to disrupt numerous enterprises, creating substantial efficiencies and cost advantages within key global sectors including maritime, oil and gas, mining, supply chain and logistics, automotive, utilities, and many others.
Following an earlier InOrbit NOW mission planned in 2020 to deploy another batch of ten Astrocast satellites in sun-synchronous orbit, this mission will mark a total of twenty Astrocast satellites to be launched and deployed by D-Orbit.
During the planned Astrocast mission, the ten nanosatellites will travel inside the DCube dispensers, designed by D-Orbit to reduce vibration and shock levels during launch.
"Reliable access to space is critical for Astrocast as we move quickly to deploy our constellation. We feel D-Orbit is a critical partner in our efforts and we are very excited to further our commitment to working together," said Kjell Karlsen, CFO, Astrocast.
"We are honored to contribute to the expansion of Astrocast's infrastructure in low inclination orbits," commented Renato Panesi, D-Orbit COO. "This contract expands previous agreements with Astrocast and strengthens the cooperation between the two companies. We feel honored by Astrocast's renewed trust in our company and it's a privilege for D-Orbit to contribute to such an important mission."