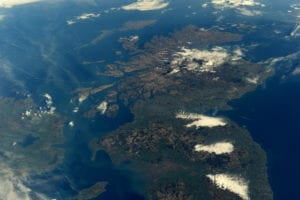 The University of Glasgow's stellar ambitions were given a boost on 8 May 2019 with the opening of the School of Engineering's space research lab.
Ivan McKee MSP, the Scottish Government's Minister for Trade, Investment and Innovation, officially opened the Integrated Space and Exploration Technology Laboratory during a visit to the University's James Watt South building.
The lab, which has received around £100,000 in upgrades over recent months, is home to ambitious space-related research projects including ultrasonic drills capable of drilling into rocks on Mars and in low-gravity environments, swarms of tiny micro-spacecraft, technologies to build large structures in orbit, and tunnelling robots which can explore beneath the surface of other planets or asteroids.
The upgraded lab now offers researchers access to facilities including a vacuum chamber, a clean room for delicate engineering projects, 3D printing facilities and a device known as a Helmholtz cage, which simulates the Earth's magnetic field in orbit, making it useful for developing devices for use in space.
The lab is part of the University's Space Glasgow network, which brings together engineers, physicists, geologists, mathematicians and computer scientists on cross-disciplinary space research projects.
Mr McKee met researchers from the University's School of Engineering to hear more about their work in five key areas: access to space, space technologies, orbital dynamics, landing technologies, and surface and subsurface exploration.
Mr McKee said: "I am delighted to open the new Integrated Space and Exploration Technology Laboratory at the University of Glasgow.
"Scotland already has an innovative and diverse engineering base, with world-class companies competing in international markets.  As a country already punching above its weight in the space sector, we are in a great place to consolidate these existing strengths to inspire skills development and STEM take-up.
"This new lab will play a vital role to support the development of the sector in Scotland and I am pleased to see the University of Glasgow supporting these ambitions by providing exciting new opportunities for their students."
The research currently underway in the I-SET lab is supported by around £2m in funding from agencies including the Royal Academy of Engineering and the UK Space Agency.
Professor David Cumming, head of the University's School of Engineering, said: "We were pleased and proud to welcome Ivan McKee MSP to the University today to open our Integrated Space and Exploration Technology Laboratory.
"Our Space Systems Research Group represents a wide range of engineering expertise and involves partners from industry including Alba Orbital and Craft Prospect.
"We're looking forward to exploring the opportunities our facilities will offer us as we develop exciting new space technologies."
Professor Colin McInnes, the University's Royal Academy of Engineering Chair in Emerging Technologies: Space, said: "Scotland's space sector is growing at a remarkable rate, and we're proud to be playing a key role in its development here at the University of Glasgow.
"Our goal is to devise, develop and demonstrate a range of new technologies which will help shape the space industry of the future."
For more information on the University of Glasgow's space research, visit www.glasgow.ac.uk/space