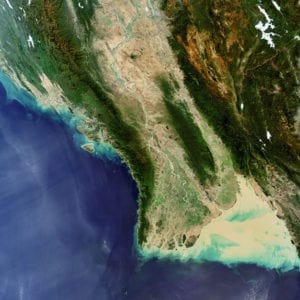 Representatives of Japan's Hokkaido University recently visited Myanmar to discuss the possibility of building a small Earth observation satellite with counterparts at the Myanmar Aerospace Engineering University, according to an English-language report in the Myanmar press.
If approved, the Earth observation satellite project is likely to begin in the 2019-2020 fiscal year, according to the Mynamar government.
"Hokkaido University and Myanmar Aerospace Engineering University are collaborating in launching an EOS [Earth observation satellite], the third stage of Myanmar satellite system. We expect that the project can be implemented in 2019-2020 fiscal year," said Win Khant, the Permanent Secretary of the Ministry of Transport and Communication in Myanmar.
The Earth observation satellite project is the third stage in Myanmar's efforts to acquire a range of satellite capabilities. The first stage involved the lease in May 2016 of a channel on an Intelsat commercial communications satellite called MyanmarSat-1.
The second stage involves the lease of another channel on an Intelsat commercial communications satellite, MyanmarSat-2, that starts in November 2019 for a 15 year period.
It is believed that Myanmar and Hokkaido University have been in talks about building an Earth observation satellite since at least August 2018. At the time, and as reported in SpaceWatch.Global, Myanmar's Vice-President, Myint Swe, said, "Myanmar will send its own satellite. It will be done when Myanmar possesses technology and experience. If we build this satellite ourselves, it will be too costly. Therefore, for the first priority, we will make concerted efforts to be able to send cost-effective earth observation micro-satellite. Hokkaido University from Japan has offered us to send this satellite."
If the Earth observation satellite project proceeds, the satellite's camera and other instruments will be integrated by Myanma engineers. Negotiations on the specifications of the sensors are underway with the relevant ministries in Myanmar. Once these specifications have been decided upon, Myanma engineers will integrate them into the satellite at Hokkaido University in Japan. Presumably, the completed satellite will also be launched from Japan.
Myanmar is also considering creating its own national space agency, with government sub-committees exploring the establishment of such an agency, the creation space legislation, policy, and regulations, and the development of national space technologies and capacities.
In November 2018 it was revealed that Myanmar and China had agreed to open a joint technology transfer centre that would allow Myanma engineers to access know-how and technologies for building their own communications satellite.
News of Myanmar's space ambitions comes as many countries are condemning the Southeast Asian country of carrying out atrocities against its Rohingya Muslim minority, 700,000 of whom (out of an estimated population of 1.3 million) have been forced to flee to neighbouring Bangladesh, creating a humanitarian crisis there. Last week, two Myanma journalists who reported for Reuters were released early from prison after being sentenced to seven years imprisonment each in August 2018 by a Myanmar court for reporting on the government's mistreatment of the Rohingya.
These controversies have put off Western business interest in Myanmar, but have not deterred companies and organisations from China, Japan, Thailand, and South Korea. Animating Asian corporate interest in Myanmar is the intensifying geopolitical competition for influence in Nay Pyi Taw – Myanmar's capital city – by China and Japan especially. It is in this context that Japan is offering Myanmar satellite technology development and capacity building.