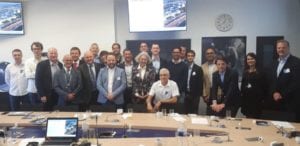 EBAN Space, Europe's largest gathering of private angel and early-stage investors in space and space-tech, the European Space Agency Business Incubation Centres (ESA BICs) and Thales Alenia Space, joint venture between Thales 67% and Leonardo 33%, recently animated the "Innovation Showcase" in Cannes. This event hosted six innovative New Space companies. As such, it brought together an entire eco-system of entrepreneurs, incubators and accelerators, private investors and corporations for a unique and richly productive snapshot of not only what individual entrepreneurial companies are doing, but a picture of the totally new paradigm emerging for space and space-related industries and services in the world as well.
"The fact that the companies presented had been not only through world class incubators and accelerators as the ESA BICs and Seraphim Space Camp, but had also been invested in by members of the EBAN Space Community, thus showing market traction with real clients, revenues, and a potential for return on investment was reflected in the maturity of the individual companies and was a huge validation for us, making it a very worthwhile event", commented Robert Carpentier, North America & Europe Operators Marketing & Sales VP for Thales Alenia Space. "The start-ups were truly very high quality," said Vincent Clot, Thales Alenia Space Open and Business Innovation Leader. "We see potential at different levels with all of them and will investigate opportunities to collaborate with them in a pure Open Innovation spirit."
All of the six entrepreneurial companies noted that "the direct and in-depth conversations with Thales Alenia Space senior-level technical and business executives gave us real insight into what large corporations are specifically looking for in their potential cooperation with New Space entrepreneurs and how this can concretely translate into a win-win situation". The "space entrepreneurs" also commented on the "valuable exchanges with the other New Space companies within the Innovation Showcase, where they identified and discovered possible synergies among themselves".
"ESA is extremely proud that the quality and growth potential of the companies that we have identified and supported with grant money and in-kind contribution is being recognised not only by the EBAN Space Business Angels and Early Stage funds who have invested in our ESA BICs portfolio companies but also by one of the world's leading space industry companies," said Frank Salzgeber, head of the Tech-Transfer division of ESA.
"The private investor members of EBAN Space, be they Angel Groups such as UK Space Tech Angels, Luxembourg Space-Tech Angels, EstBAN (EE), DNA Cascais (PT), Cobin Angels (PL), Aerospace Valley (FR), Sophia Business Angels (FR), Angelus Funding (USA); be they Early Stage Venture Capitalists such as Seraphim Space Capital, SpaceTec Capital, Triangle Ventures— who have come together to invest in the new emerging space sector are pleased to see their portfolio companies inciting interest at the corporate level," commented Anthony Clarke, EBAN Space Chair. "The Thales Alenia Space/EBAN Space/ESA-BICs Innovation Showcase shows that real benefit can be drawn from providing an information exchange platform at an early stage which may then lead to transformational deals for all stakeholders".
The names and the contact details of the six companies chosen to present at this first Innovation Showcase are:
Hiber – The low Power Global Area Network. Revolutionising IoT Connectivity (NL)
Coen Janssen, Co-founder
Infinite Orbits – Develops and operates life extension and BIU platforms with a new space approach to extend the operational lifetime of in-orbit GEO telecommunication satellites and deliver optimized satellite fleet management solutions (UK)
Tamas Sarvary, CEO
Kleos Global – GEOINT DaaS that when deployed in conjunction with mapping or other imagery within data fusion platforms provides an innovative method of identifying activity of interest to the customer (LU)
Andy Bowyer, CEO
OroraTech – Global real-time infrared satellite data (DE)
Bjorn Stoffers, Co-founder – Managing Director
Thomas Grübler, Co-founder – Managing Director
Sofant Technologies – Highly patented, low cost RF MEMS technology which dramatically reduces the power consumption of SatCom and 5G antenna systems (UK)
David Wither, CEO
Zubax Robotics – Researches, designs, and manufactures electric propulsion systems for aerospace and other applications (EE)
Pavel Kirienko, CEO/CTO
EBAN Space is the Community of Business Angels and Early Stage Investors of EBAN, the European Business Angel Network, dedicated to promoting and investing in space and space-related ventures.
ESA Technology Transfer and Business Incubation Office initiated its ESA Business Incubation Centres (ESA BICs) in 2000, and held the 1st selection committee on July 3rd 2003, to inspire and work with entrepreneurs to turn space-connected business ideas into commercial start-ups companies. This has proven to be a very successful initiative. Since July 2003, over 650 start-ups have been fostered throughout Europe with thousands of new high tech jobs created thanks to the applications of space systems, the valorization of ESA intellectual properties and the space technologies transfers – and more than 150 new start-ups are taken in yearly at the ESA BICs.