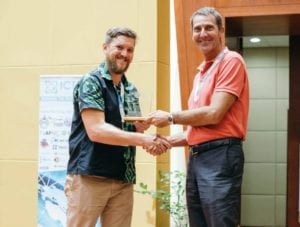 Kacific has won the award for Best Digital Inclusion at the 2019 Pacific ICT Awards held by the Government of Vanuatu on 17 May.
The award recognises organisations that showcase innovative developments that encourage the rights of disadvantaged groups to adopt ICT and contribute to the development of an information society.
Kacific currently operates satellite broadband services across the Pacific, with a focus on connecting remote and rural island communities with reliable, affordable internet through a small and easily maintained satellite dish.
"The world needs what we're doing at Kacific," said Christian Patouraux, CEO and founder. "High-speed connectivity is opening up many life changing possibilities in the geographically challenging areas of Asia Pacific. Through satellite broadband, we're helping to educate young people and save lives through connected rural medical clinics. We are providing emergency connectivity to police stations as well as disaster response and relief teams. These outcomes make our work very rewarding."
Kacific's current services will be upgraded to even faster speeds in December 2019 when its new high throughput satellite (HTS), Kacific1, comes into operation.