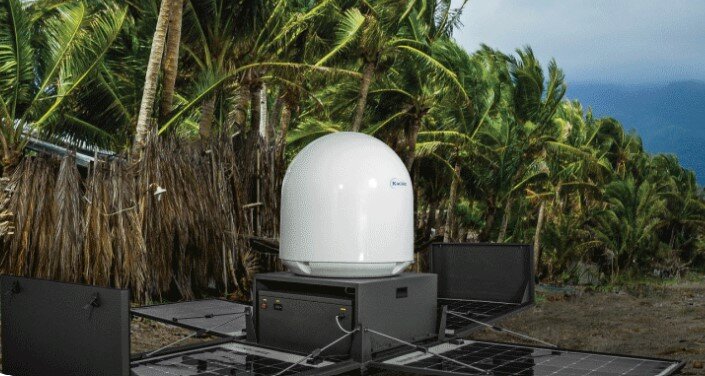 Ibadan, 25 April 2023. – Kacific has, through CommsBox, a transportable, all-in-one satellite communications product, received recognition at the 10th annual Asia-Pacific Stevie Awards. Kacific won the Gold Stevie® Award for "Achievement in Product Innovation" with CommsBox, which addresses the challenges faced by disaster-prone areas. Users can quickly and easily deploy CommsBox to create a self-contained wireless communication network.
Honoring workplace innovation across the Asia-Pacific region, the Stevie Awards are globally important premier business awards. This year, the award considered and reviewed 800 nominations, with more than a hundred judges worldwide working together to select the winners.
Kacific's CEO, Christian Patouraux, commissioned the development of CommsBox after experiencing first-hand the significant damage to communication infrastructure caused by the deadly Indian Ocean Tsunami in 2004. The governments of Fiji and Indonesia and local Government units in the Philippines have relied on CommsBox for their resilience efforts since it launched in 2022.
Unlike traditional communication methods, which are often subject to disruptions during disasters, CommsBox is independent of terrestrial infrastructure, making it a game-changer in disaster response. Furthermore, CommsBox's auto-pointing mechanism can help people in the disaster zone to immediately communicate with others within a few minutes using the tablet provided.
Christian Patouraux said: "When a disaster strikes, effective communication can mean the difference between life and death. Kacific is dedicated to providing dependable, affordable, high-speed internet connectivity that can withstand even the harshest circumstances".
For Kacific, CommsBox represents a significant leap forward in communication technology. Furthermore, its pioneering features make it a vital tool in disaster response efforts in the Asia-Pacific region and beyond. As the region continues to face the threat of worsened climate change, a self-contained disaster recovery system like CommsBox can help local governments, ministries, and citizens respond effectively to natural disasters.