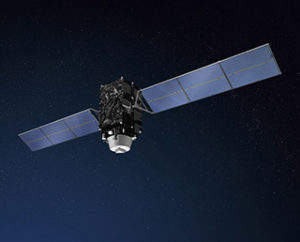 Japan launched its own satellite positioning, navigation, and timing (PNT) system called Michibiki  on Thursday, 1 November 2018, as part of an effort to generate new businesses worth nearly 5 trillion yen (U.S.$44.4 billion) by 2025, as companies such as SoftBank Group, Mitsubishi Electric, and Hitachi develop applications in automated driving, farming, and other sectors that will use the Michibiki system.
"Our lifestyles would be impossible without GPS," Prime Minister Shinzo Abe said at the Michibiki opening ceremony, referring to the U.S. Global Positioning System (GPS). The Michibiki satellite constellation, known officially as the Quasi-Zenith Satellite System (QZSS), would allow Japan to turn "a new page in history," Abe said.
The Michibiki system keeps at least one of the current four Michibiki satellites over Japan at all times, providing it with an advantage over GPS as it will deliver a precise view over the Japanese islands uninterrupted by mountains or tall buildings. With special receivers, the satellites can narrow margins of error to 10 cm or less, improving significantly on the U.S. system's roughly 10-metre window. The Michibiki service will be free for anyone with a device capable of receiving the signal.
Japan's cabinet and other government bodies have invested around 120 billion yen (approximately U.S.$1 billion) into the Michibiki system in the expectation that it will encourage new Japanese industries and innovation. The Nikkei Asian Review reports that expectations are particularly strong for applications in the rapidly advancing field of automated driving, with some businesses estimating the market for positioning services in that field alone at about 500 billion yen (approximately U.S.$4.4 billion).
Michibiki is so accurate and precise it can even tell which road lane cars are in and is seen as a critical enabling technology for autonomous-driving cars in certain areas and conditions — known as the fourth, or second-highest, level of automation under standards defined by U.S.-based SAE International.
Companies in other sectors are also looking for ways to use the Michibiki PNT system. According to Nikkei Asian Review, Hitachi will begin taking orders this month for a system to help automate certain tasks like watering crops and spreading fertilizer at large-scale farms. Hitachi has verified in unmanned tractor tests in Australia that it can maintain the margin of positioning error of Michibiki to within 10 cm. As a result, Hitachi expects about 80% of agricultural tasks can be automated, translating to about U.S.$350,000 in annual savings on labour and other costs on an average Australian farm of about 3,000 hectares.
Similarly, SoftBank and Murata Manufacturing are testing systems enabled by Michibiki PNT to help pinpoint road sections in need of repair in the city of Uji in Japan's Kyoto Prefecture. NTT Docomo — a rival to SoftBank's mobile carrier operations — is carrying out tests with Sensyn Robotics on using drones enabled by Michibiki PNT to carry out search and rescue missions in Japan's mountainous regions.
"Michibiki will let us reliably acquire positioning information even in areas like the mountains," said Sensyn CEO Taishin Demura, quoted in the Nikkei Asian Review.
According to the Japanese Satellite Positioning Research and Application Centre, the Michibiki PNT system could generate about 2.4 trillion Yen (approximately U.S.$21.2 billion) in economic benefits in Japan alone, and as much as 2.3 trillion Yen (approximately U.S.$20.3 billion)) in Southeast Asia, Australia, and New Zealand.
The high price of Michibiki PNT receivers is likely going to be a challenge for the system to reach its commercial and economic potential. On 1 November 2018 Mitsubishi Electric began to sell Michibiki PNT receivers that are accurate to within a few centimeters but at a price of several million yen, or tens of thousands of dollars, each. If the Michibiki PNT system is to be a commercial and economic success the Japanese government and other backers hope for then the cost of these receivers will need to be a fraction of current prices. If a significant price drop does not occur then the receivers will not become viable components in cars, for example. Lowering costs through mass production will be critical.
Another challenge to Michibiki's overall success will be to make the receivers small enough for practical everyday use. Presently the base of each receiver measures at 10 cm by 10 cm, making it far too big for it to fit inside smartphones.
Additionally, although the Michibiki PNT system offer one of the world's most precise positioning capabilities, its coverage is currently limited to Japan and Australia.