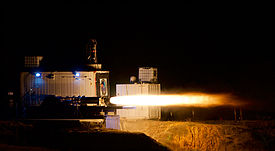 The Australian and Singaporean New Space launch company, Gilmour Space Technologies, conducted its most powerful orbital engine test to date on 16 August 2018 as part of its preparations for a key suborbital test flight in the fourth quarter of this year.
"We achieved a record 80 kilonewtons (kN – or 18,000 pounds) of thrust from a 17-second test-fire of our orbital-class rocket engine this week," said the company's Chief Executive Officer and founder, Adam Gilmour. "It was the final pre-flight motor test of our main orbital engine; and I would say this put us at a Technology Readiness Level (TRL) of 6, well ahead of most global small launch competitors today."
Gilmour Space Technologies, based in Queensland, Australia, is part of a growing number of New Space start-ups competing to develop smaller and cheaper launch vehicles that could deliver the next generation of small satellites into low earth orbit (LEO). Gilmour Space Technologies plans to launch its Eris-100 space launch vehicle (SLV) in 2020, a three-stage commercial vehicle capable of launching a payload of up to 100 kilograms to LEO; followed by the Eris-400 SLV in 2021, a clustered-engine vehicle for payloads of up to 400 kg.
"I'm pleased with our team's progress in developing and scaling our new hybrid rocket technology, and expect to be opening up for launch bookings by the end of 2018," said Adam Gilmour. "Indeed, with the spotlight now on small and responsive launch capabilities, I am confident that Gilmour Space will soon be embarking on our next phase of development."