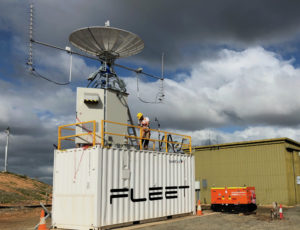 Australian New Space satellite communications company Fleet Space opened a satellite ground station last week as part of its mission to build a constellation of small satellites and associated ground infrastructure to provide connectivity for the Internet-of-Things (IoT).
The station, located at Pinkerton Plains about 70 kilometres north of Adelaide, opened on 27 July 2018. It is the first piece of space-related infrastructure to become operational after the establishment of the Australian Space Agency on 1 July 2018.
Flavia Tata Nardini, Chief Executive of Fleet Space, told the Australian Financial Review that it was gratifying to be able to deliver a real piece of space infrastructure while the recent focus had been on setting up of the Australian Space Agency. '"It's a real thing. There's been a lot of talking," she said.
Fleet Space's first two nanosatellites, Centauri I and Centauri II, are scheduled for launch in October 2018. One will be launched on a launch vehicle from India by the Indian Space Research Organisation (ISRO), and the other will be launched by Spaceflight via SpaceX from Vandenberg Air Force Base in California.
These nanosatellites will help Fleet Space build the infrastructure to bring better and cheaper connectivity as the Internet of Things (IoT) grows and evolves. The nanosatellites enable billions of sensors on various pieces of equipment and infrastructure to connect to the Internet and feed data back to companies in sectors such as agriculture, mining, logistics, and maritime transportation.
According to Nardini, the infrastructure on site at the Pinkerton Plains ground station includes a shipping container, satellite tracking dishes, and other equipment. She explained to the Australian Financial Review that no people would be located at the site, since Fleet Space will operate the ground station remotely from its headquarters in Beverley, Adelaide.
Dr. Megan Clark, head of the new Australian Space Agency, described the ground station as an example of some of the great space-related activities underway in Australia, as well as an important milestone for Fleet, reported Australian Financial Review.
Fleet Space was set up in 2015 with a group of backers, including venture capital firm Blackbird Ventures and Atlassian co-founder and software billionaire Mike Cannon-Brookes.