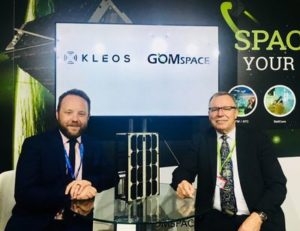 Kleos Space, the New Space space-based intelligence and geolocation company registered on the Australian Stock Exchange and headquartered in Luxembourg, has signed a contract with Danish-based small satellite manufacturer GomSpace for the supply of a Nanosatellite constellation.
The contract was signed on 26 July 2018 by Andy Bowyer, CEO of Kleos Space, and Niels Buus, CEO of GomSpace, and is valued at U.S.$2.83 million.
Kleos Space's mission is to guard borders and assets, and in turn prevent loss of life, through the provision of global activity-based intelligence and geolocation data as a service to governmental and corporate clients. Kleos is also developing in-space manufacturing technology for commercial applications in the near- and long-term.
GomSpace is one of the world's leading Nanosatellite manufacturers and provides everything from individual satellite components through to turnkey satellite capabilities.
Under the contract, GomSpace will build a test-bed Nanosatellite called Kleos Scouting Mission (KSM) that will carry out a technology demonstration mission and will be the keystone for the rest of the constellation that should be in orbit by mid-2019. KSM will provide a daily service on a targeted basis, while the completed Kleos constellation will provide global, near-real-time coverage and observation for clients.
"Kleos is a fantastic example of the revolution that is taking place in New Space. We are happy to see the perfect match between our technology roadmap and the services that Kleos will provide and we are confident that this collaboration will be a success," said Niels Buus, GomSpace CEO, at the contract signing ceremony.
"GomSpace is a critical partner for Kleos to deliver our goal of providing global RF geolocation intelligence as a service. We continue to be impressed with the quality, value, responsiveness and capability of the GomSpace team who have shown themselves to be able to work truly synergistically with the Kleos team," added Andy Bowyer, CEO at Kleos.