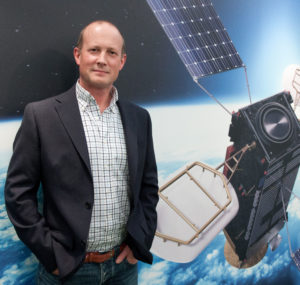 For 25 years, global satellite operator Eutelsat has been involved with the humanitarian community, donating equipment and bandwidth to affected communities wherever they may be. However, with the increase in humanitarian crises, there has been a requirement for the entire satellite industry to take a more organised and more effective approach to disaster situations. SpaceWatch Middle East Contributing Editor Helen Jameson sat down with Simon Gray, Senior Vice President of Humanitarian Affairs, Eutelsat, to discuss the steps that the industry is taking to help coordinate response efforts.  
"It's a very different world today, and I think that everybody realises that we are facing the biggest humanitarian crisis since the Second World War."
Simon Gray's words are powerful – and they are true. It seems that we cannot go through just one day without hearing about some sort of humanitarian crisis occurring somewhere in the world. It might be manmade like the European refugee crisis, or natural like the famine in the Sudan. However, every crisis involves people, and people need communications. This is the bottom line, and this is Simon Gray's job.
As Vice President of Humanitarian Affairs at Eutelsat, Gray wears a couple of hats. He is on the Advisory Board for ITU's disaster and development communications and he also serves on the GVF Board of Directors, which he has done for 7 years. The area of humanitarian affairs is a key one for Eutelsat, and the operator has routinely offered help to the community for the last 25 years. In some respects, Eutelsat has been pioneering in its response efforts because, the company has really thought about what it is that the humanitarian sector needs in a disaster situation.
For 15 years, Gray and his team were responsible for overseeing equipment approval for Eutelsat. During this time, they were troubleshooters and also were highly involved in terminal development, resulting in the enhancement of consumer terminals. Furthermore, Gray and his team put a lot of thought into how to help the consumer (and other users) to install their terminal, presenting them with YouTube videos, troubleshooting procedures and manuals in order to make a process that could seem daunting, much simpler.  "We wanted to design it so that anybody can deploy it and if they can't, it's our problem, because we haven't designed it properly. The fact that we are the only operator that still approves antennas contributes to making our systems particularly reliable."
This simplicity, and the fact that the consumer terminals are small and easy to transport, led to a lightbulb moment for Gray. For about 13 years, Eutelsat has supported NetHope, an association that enables cross-sector collaboration between 50 non-profits and innovative companies to help deliver greater connectivity in affected communities. Eutelsat has worked with the company in Kenya, helping them to build their first training centre with donated equipment, and also more recently, during the Ebola crisis when Eutelsat donated 15 terminals and 6 months of free bandwidth for remote medical centres in West Africa. This led Gray to consider the idea of deploying consumer grade terminals into disaster situations. Previously, large and expensive satellite terminals were being deployed to most crisis areas. This created a lot of problems in terms of basic logistics and simply getting the terminal to where it needed to be.
"If you have a sub-1m terminal, you can transport it in a car," says Gray. "You can deploy it in an hour and it's not that expensive if there is a problem with logistics. For example, in the Ebola crisis people could not go back and collect that equipment."
"With the advent of HTS terminals and other consumer services it is often not necessary to deploy large antennas. We take a holistic viewpoint at Eutelsat, changing paradigm to accessibility to robust communications", says Gray. "We developed our own intuitive quick deploy mast which can be set up  in 5 minutes with no tools We produced our own installation films in 8 languages available on YouTube to enable self-installation. We also designed apps that don't need 3G so they can be used anywhere and allow you to carry out the installation with your mobile phone, without the need of an expensive spectrum analyzer." The use of small, consumer terminals has transformed emergency communications for the NGOs supplied with the equipment. Multiple terminals result in a very granular network. This approach from Eutelsat has been in place for between 4 and 5 years now, and its ease of use, reliability and redundancy has been very effective. Additionally, the fact that no training is required and the intuitive design of the terminals mean that it works across different cultures."
The Crisis Connectivity Charter
According to Gray, the satellite industry has always been the first to come forward and offer help. The Crisis Connectivity Charter has been a milestone in the provision of communications in emergency situations.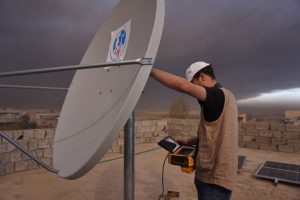 It all started in 2015. The UN ETC (Emergency Telecommunications Cluster) which represents all UN agencies and large NGOs asked the satellite industry to attend a meeting in Brussels. Gray attended the meeting on behalf of Eutelsat and the UN provided some truly horrifying statistics. "The figure that really stuck in my mind the average stay in a refugee camp was 17.5 years," says Gray. "If you couple that with the figure of 65 million refugees worldwide, the majority of them under 25, it is staggering."
The UN ETC gave the satellite industry representatives a list of requests. They needed pre-planned solutions, hybrid solutions and end-to-end solutions. Due to the fact that the industry is the only one that can supply communications immediately, they are the first to be contacted, or to take the initiative. For the UN ETC, the problem had not been gaining access to the equipment or bandwidth required, but it has been having the right equipment in the right place – the logistics required for smooth deployment. Therefore, they asked the satellite community to pull together and help with predictable, pre-planned, end-to-end solutions with communications for aid workers and the affected population. This presented a change for the industry, as before it had been catering for the UN itself. And the UN wanted this all implemented within the first 24 hours.
It was agreed that all relevant equipment would be stored in enormous humanitarian depots in Dubai, Brindisi and Panama which store a plethora of different materials such as blankets and tarpaulin. The logistics would be carried out by the UN.
As co-ordinator for the Crisis Connectivity Charter, Gray acts as the point of contact for the UN for the satellite industry (Arabsat, Eutelsat, Inmarsat, Intelsat, Hispasat, SES, Thuraya and Yahsat). He explains further: "The ETC also asked us to scale the network for 9 emergencies per year. They gave us a list of countries that definitely needed covering and they indicated requirement for three months of free bandwidth. For the first time ever the satellite industry is buying huge amounts of equipment and stocking it at the UN logistics base and then they are reserving a bandwidth over many different coverage areas to make sure that the solution is ready in case there is a disaster in that area."
In order to support communications as efficiently as possible within each country, the signatories have pledged to provide multiple services per country in every country. Gray continues: "The goal was to construct a network so that there are a minimum of three solutions per country. You have C-band for mission critical communications, then Ku-band over each country for multiple systems that are easily deployed within an hour and easy to transport within the affected area. We also offer Ka-band solutions which have been used for the refugee crisis in Europe and also in the Yemen. The bonus with the Ka-band systems is that it is even smaller than the Ku-band system. It's easy to install and because of the type of satellites behind it, you have much more throughput."
Satellite Industry Blazing a Trail
The Crisis Connectivity Charter is an extremely important one because it highlights the true dedication of the satellite community to offering assistance and life-saving connectivity to those who need it most.
"This is very important to us as a sector," says Gray. "The satellite industry is ahead of logistics, big pharma, Silicon Valley and ICT in offering a sector-wide response. You have individual donors like Google and Microsoft, but they haven't come together as a sector."
The satellite industry is demonstrating true leadership in the humanitarian sector delivering life changing communications at times of great needs
---
Eutelsat: Working with TSF for the last 10 years

Eutelsat have also been supporting Telecoms sans Frontieres (TSF) for the last ten years. "Eutelsat supplies financial support, equipment and bandwidth to supply to broadband connectivity for the affected population," says Gray. "It's a partnership. They are real heroes, designated as first responders world-wide by the UN. Their work is incredible"

Jean-François Cazenave, TSF President, gave some details about the partnership with Eutelsat: "The success of Télécoms Sans Frontières' 10-year partnership with Eutelsat goes beyond the company's unwavering generosity and unrivalled technical capacities. Eutelsat's sensitivity to our humanitarian cause is the key to our common success. It is thanks to the awareness that is propagated throughout the company that TSF is able to support millions of vulnerable people each year. Adaptability and flexibility are two vital aspects of humanitarian response and Eutelsat proposes just that, enabling TSF to intervene on all terrains. From mass population displacement to crippling meteorological phenomena, in the past three years alone, TSF has been supported by Eutelsat in 18 emergency missions in Haiti, the Philippines, Greece, the Balkans and the Middle East, to name but a few, bringing lifelines to over 4 million people  affected by crises. We are proud to count Eutelsat amongst our most loyal and ardent supporters and as emerging humanitarian needs continue to develop, we look forward to the next ten years of partnership."
SpaceWatch Middle East recently reported on the work of TSF here 
SpaceWatch Middle East thanks Simon Gray, Senior Vice President of Humanitarian Affairs, Eutelsat for the interview and the fascinating view into his business.  
Original published at: https://spacewatch.global/2017/05/spacewatchme-interviews-simon-gray-eutelsat-industry-unites/