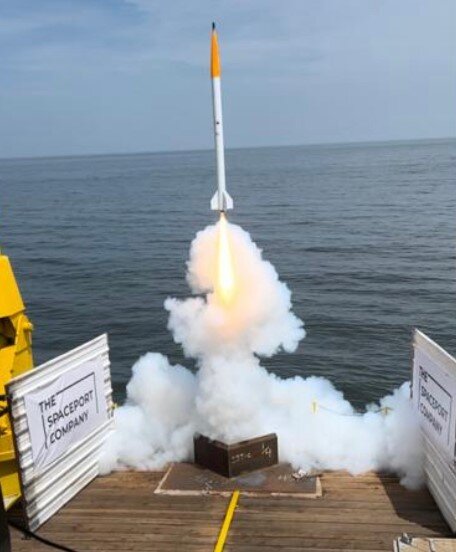 Ibadan, 25 May 2023. – The Spaceport Company has successfully tested its mobile floating spaceport prototype by conducting the first-ever commercial rocket launches from U.S. territorial waters. This is because the Company launched multiple rockets in one day from a modified ship located in the Gulf of Mexico. As a result, it proved the potential for offshore spaceports to ease congestion at existing launch ranges and expedite the delivery of satellites to orbit.
The offshore spaceport demonstration successfully tested all the procedures necessary to conduct an orbital-class launch: regulatory approvals from the FAA and US Coast Guard, scheduling, control of public access, range surveillance, hazard clearance, airspace integration, anomaly response, and remote launch vehicle ignition at sea. Furthermore, The Spaceport Company conducted the demonstration on schedule and within budget.
The Spaceport Company is an emerging player in the development of mobile, sea-based launch and landing site systems and, with this demonstration, earned the distinction of being the first Company to conduct commercial rocket launches from a vessel located in U.S. territorial waters and within the U.S. National Airspace System (NAS). Operating in U.S. waters and airspace allows The Spaceport Company to offer higher launch capacity with less risk to the public and fewer environmental impacts than competing launch sites on land or overseas.
"This demonstration provided numerous lessons which will be incorporated into our next project: building a sea-based spaceport capable of orbital operations," said CEO and Founder Tom Marotta. "We are working towards offering the U.S.'s first truly commercial spaceport, which can best support the rapidly growing commercial launch industry and alleviate the burdens on Government ranges."