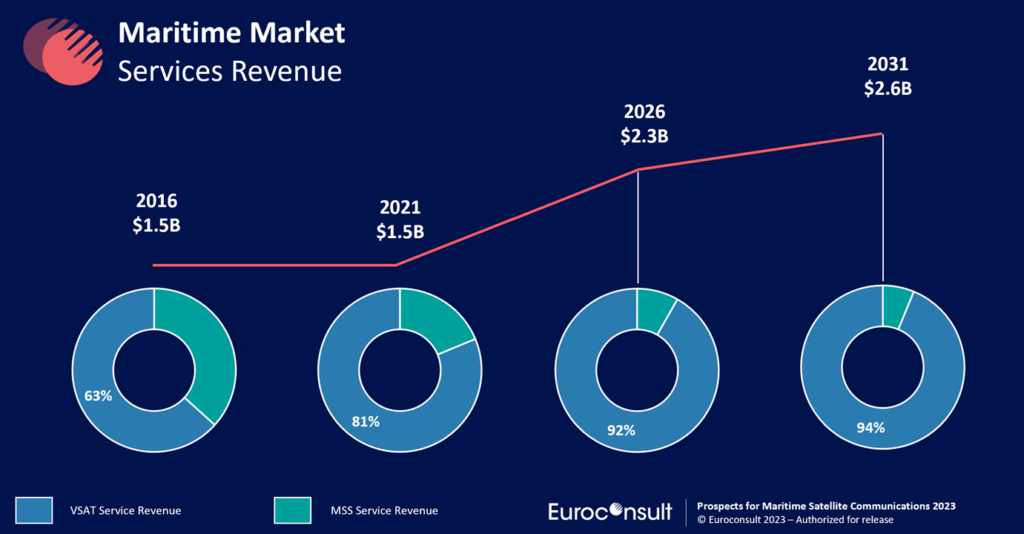 London, 4 May 2023.- Euroconsult has released its annual "Prospects for Maritime Satellite Communications" report. Euroconsult's report provides a review of key metrics of the Maritime Connectivity systems and services market, focusing on satellite technologies, impact of NGSO constellations, smart ships, and autonomous vessel concepts.
Euroconsult have stated that maritime connectivity sectors have mostly recovered from the pandemic's influence on supply chains and vessel activity now that the most severe COVID-19 restrictions have been lifted. According to their forecasts, maritime satellite communication operators are expected to surpass $1.1 billion in revenues by 2032 at a 7% CAGR over the decade. Whilst some service providers will see a fall in their average revenue per unit (ARPU), total service revenues are expected to grow at a similar CAGR, falling slightly short of $3 billion by 2032. 
"The cost of capacity will continue to fall given the increased supply provided by the new generation of geostationary very high throughput satellites (GEO VHTS) and NGSO satellites, pressurising existing capacity providers also to lower prices,"  says Vishal Patil, Senior Consultant at Euroconsult and Chief Editor of the report.
Euroconsult caveats the findings by warning that low-bandwidth services, predominantly for small merchant and fishing vessels, will be impacted by rising influence of inflation and will have seen an increase in data plan pricing. The report also references the war in Ukraine, which has led to geo-political effects on sectors like Offshore Oil and Gas and an increase in the number of support vessels being deploying to deal with demand-supply challenges.
Euroconsult estimates that the launch of maritime NGSO services is driving the adoption of very-small-aperture terminals (VSATs) in the sector, with 37,000 VSAT-equipped vessels at the end of 2022, the merchant shipping segment leading with 23,000 crafts. The firm expects a total of 90,000 VSAT-equipped vessels by 2032, with the associated bandwidth usage to grow twentyfold in 10 years from 65 Gbps in 2022 to 1.3 Tbps. This is expected to be mainly driven by increased adoption of VSATs influenced by the availability of NGSO services for the maritime market.